De betekenis van de Atlantische slavernij voor de Nederlandse economie in de tweede helft van de achttiende eeuw.
Keywords:
Slavery, Slave-trade, Dutch Republic, GDP, Atlantic Trade
Abstract
Dit artikel presenteert de eerste methodologisch onderbouwde berekening van het gewicht van op Atlantische slavernij gebaseerde activiteiten in de Nederlandse economie in de tweede helft van de achttiende eeuw. De Nederlandse Republiek was in deze periode één van de meest ontwikkelde commerciële samenlevingen in Europa. In deze economie speelde de import, verwerking en export van door slaven geproduceerde artikelen zoals suiker, koffie en tabak een belangrijke rol. Maar liefst 5,2 procent van het Nederlandse Bruto Binnenlands Product, en zelfs 10,36 procent van het BBP van Nederlands rijkste provincie Holland, was in 1770 op slavernij gebaseerd. In de onderzochte periode bestond de Nederlandse handel voor 19 procent uit producten die geteeld werden door slaven in het Atlantische gebied. De genoemde hoge percentages waren het gevolg van de vooraanstaande rol die Nederland – en Holland in het bijzonder – speelde in de distributieketen van door slaven geproduceerde goederen. Deze keten liep vanaf de bevoorrading van slavenschepen in Nederland, via de slavenhandel, de plantages, het vervoer van tropische producten naar Europa en de verwerking ervan in Nederland, tot aan de export naar het Europese achterland. Deze keten verbond Nederland niet alleen met Nederlandse koloniën zoals Suriname maar ook met andere plantagekoloniën zoals de Franse kolonie Saint Domingue.
               In totaal representeert de enorme stroom door slaven geproduceerde koffie, suiker en tabak ongeveer 120.000 mensjaren aan gedwongen werk op plantages in de Atlantische wereld. Dit in een tijd waarin de beroepsbevolking in Nederland zelf niet groter was dan een miljoen mensen. De groei van deze handel opende de Rijnhandel met het Duitse achterland en ondersteunde Holland in een economisch moeilijke tweede helft van de achttiende eeuw. Daarnaast profiteerden ook de scheepsbouw en de verwerkingsindustrie. Maar liefst 40 procent van de totale groei van de economie van de provincie Holland in deze periode was terug te voeren tot de slavernij.
Downloads
Download data is not yet available.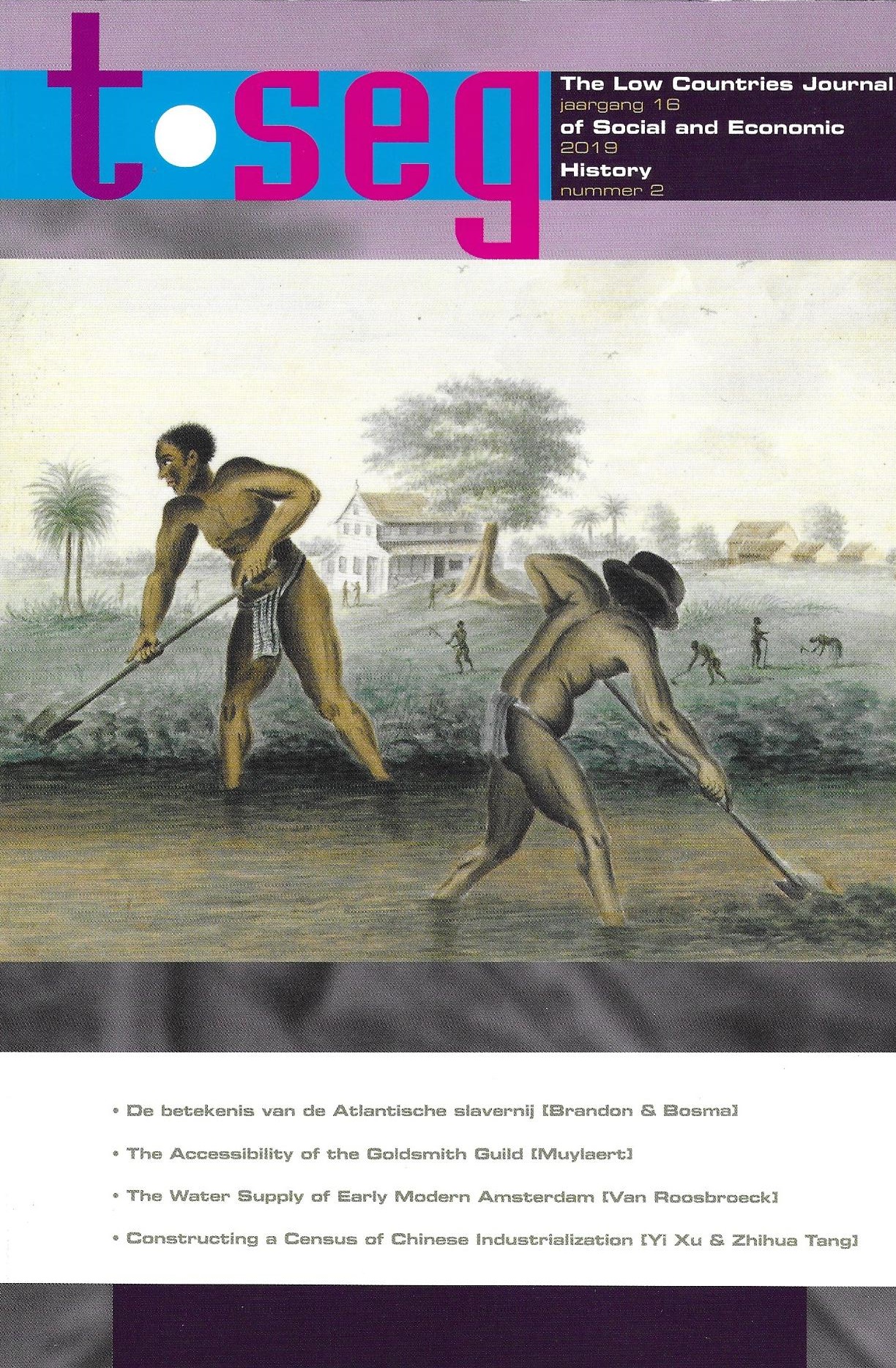 How to Cite
Brandon, P., & Bosma, U. (2019). De betekenis van de Atlantische slavernij voor de Nederlandse economie in de tweede helft van de achttiende eeuw. TSEG - The Low Countries Journal of Social and Economic History, 16(2), 5–46. https://doi.org/10.18352/tseg.1082
License
Authors who publish with this journal agree to the following terms:
a) Authors retain copyright and grant the journal right of first publication with the work simultaneously licensed under a Creative Commons Attribution-NonCommercial 4.0 International (CC BY-NC 4.0) that allows others to share the work with an acknowledgement of the work's authorship and initial publication in this journal.
b) Authors are able to enter into separate, additional contractual arrangements for the non-exclusive distribution of the journal's published version of the work (e.g., post it to an institutional repository or publish it in a book), with an acknowledgement of its initial publication in this journal.
c) Authors are permitted to post their work online (e.g., in institutional repositories or on their website) prior to and during the submission process.
Authors are explicitly encouraged to deposit their published article in their institutional repository.